Amici
Virtual Tasting Set - Amici & Olema Trio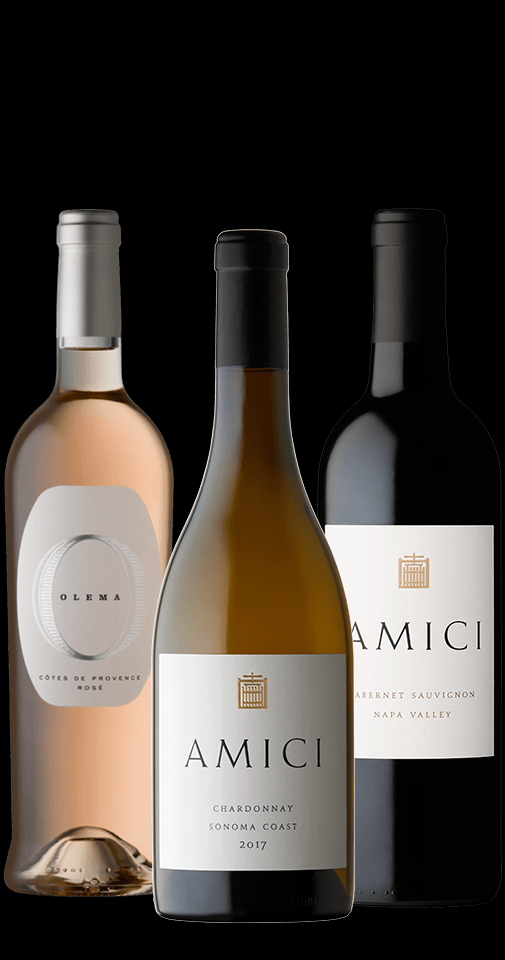 Special three-pack from Amici Cellars & Olema Wines
Amici
Virtual Tasting Set - Amici & Olema Trio
Special three-pack from Amici Cellars & Olema Wines
Included Wines (One Bottle Each):
2020 Olema Rosé, Côtes de Provence
2017 Amici Chardonnay, Sonoma Coast
2018 Olema Cabernet Sauvignon, Sonoma County
Please contact us to create a custom virtual tasting set: tastingroom@amicicellars.com.
2020 Olema Côtes de Provence Rosé
Made in the Côtes de Provence in the village of Vidauban in a true Provence Rosé style, this wine is smooth and elegant, a lovely pale copper-salmon color in the glass. Soaring aromas of fresh strawberry, cranberry, watermelon rind and honeysuckle lead into flavors of white peach, Meyer lemon, Kafir lime and hints of jasmine on the palate.
2017 Amici Chardonnay, Sonoma Coast
The 2017 Amici Cellars Chardonnay Sonoma Coast is a classic Chardonnay with aromatic complexity and a fine balance of richness and delicate acidity. Enticing stone fruit, lemon zest and roasted grain aromas lead to a delicious stone fruit-driven palate and a long, mineral finish. It is fresh and lively with a long finish driven by elegance and length.
2018 Amici Cabernet Sauvignon, Napa Valley
The 2018 Amici Cabernet Sauvignon Napa Valley is a dense, rich and beautifully textured wine. Powerful aromas of cocoa, raspberry and blackberry pie are accented by hints of sage and crème de cassis. On the palate, flavors of black cherry, blackberry and dark chocolate carry the full-bodied palate through a long, mouthwatering finish laced with cedar box and black peppercorns.
Appellation

Côtes de Provence, Sonoma Coast & Napa Valley
Alcohol

12.5% (Rosé), 13.9% (Chardonnay) & 14.5% (Cab Sauv)
Reviews
James Suckling
"Pale rose-gold color. Delicate aromas of white strawberry, rose petal, fresh apricot and lemon cream. It's medium-bodied with bright acidity. Gorgeously creamy and round. Drink now."
2020 Olema Rosé, Côtes de Provence 
James Suckling
"Sliced apples, pears and lightly toasted oak on the nose and palate. Full-bodied, layered and juicy. Lovely, delicious finish. Drink now."
2017 Amici Chardonnay, Sonoma Coast
James Suckling
"A cooler style of Napa cab with blackcurrants, hot stones and violets that follow through to a full-bodied palate with creamy, polished tannins that integrate nicely on the palate and provide a delicious combination of fruit and character. Drinkable now, but give it just one more year. Try after 2021.""Lots of currants, vanilla and dark berries with walnuts and chocolate. It's full-bodied, layered and flavorful. This is a rich cab and needs time to come together. Try after 2021."
2018 Amici Cabernet Sauvignon, Napa Valley