Sustainability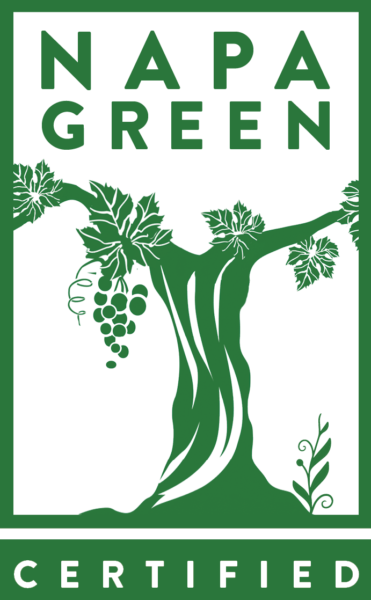 At Amici Cellars, we strive to leave a positive impact on the local and global environment. As stewards and vintners, our long-term economic success relies upon the health and wellbeing of the land we live in and enjoy. This responsibility and commitment is adopted by each member of the Amici Cellars team, and we remain committed to practicing the policies outlined in the Napa Green best business practices and the Amici Cellars Green Action plan.
We have worked closely with the Napa Green Winery organization to better understand how we can continually improve to best steward the land. This has led to several changes in our facility and workplace practices. Below is a list of the practices we have implemented since we began our Napa Green Certification process in 2018:
Energy tracking of monthly electricity use to monitor unexpected rises in use
Installation of water meter to record winery water usage to catch unexpected rises in use
Calculation of electricity and water usage compared to cases production (We have improved our electrical efficiency from 29 KwH/Case of wine, to 5.1 KwH/Case of Wine)
Installation of low-energy usage LED lights in our winery and tasting room
Insulation of all glycol piping inside and outside winery to improve heating/cooling efficiency
Implementing compost collection for food scraps to reduce landfill contribution, in addition to continued recycling efforts
Bilingual signage on all disposal bins denoting what can and cannot be disposed of
Lowering of water temperature on our boiler to 140 degrees during non-harvest season to avoid unnecessary energy use
Outfitted all winery hoses with spring-loaded nozzles to improve water efficiency
Recycling of all corks used in winery and tasting room
Using only 100% post-consumer waste recycled paper for our printers
We were thrilled to receive our official Napa Green Certification in September 2020.
If you would like to learn more about our sustainability practices, please contact us at information@amicicellars.com.