Amici
Virtual Tasting Set - Olema Essentials Two-Pack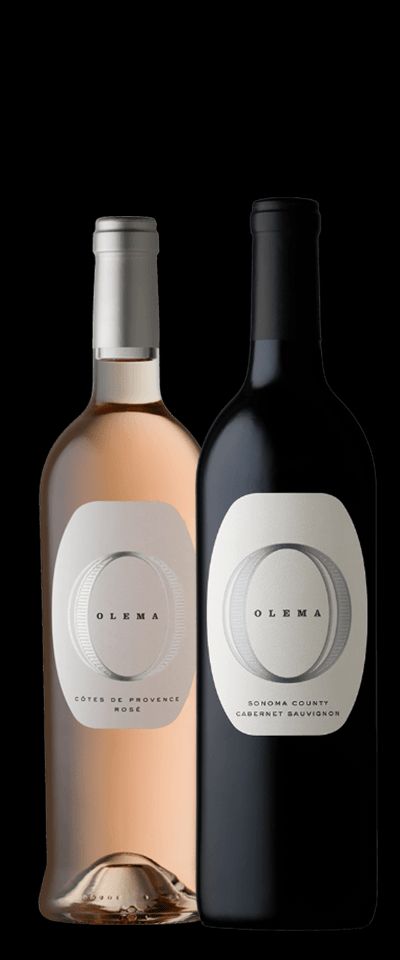 Special two-pack from Olema Wines
Amici
Virtual Tasting Set - Olema Essentials Two-Pack
Special two-pack from Olema Wines
Included Wines (One Bottle Each):
2019 Olema Rosé, Côtes de Provence
2018 Olema Cabernet Sauvignon, Sonoma County
2019 Olema Côtes de Provence Rosé
Made in the Côtes de Provence in the village of Vidauban in a true Provence Rosé style, this wine is smooth and elegant, a lovely pale copper-salmon color in the glass. Soaring aromas of fresh strawberry, cranberry, watermelon rind and honeysuckle lead into flavors of white peach, Meyer lemon, Kafir lime and hints of jasmine on the palate. The wine shows delightful balance between richness and refreshing acidity through the finish, a testament to the outstanding 2019 vintage in Côtes de Provence.
2018 Olema Cabernet Sauvignon, Sonoma County
The 2018 Olema Cabernet Sauvignon is a powerful, full-bodied with great structure and plush, chocolatey tannins. The wine opens with lovely aromas of blackberry, licorice and toasted spice. On the palate, the dense and juicy mouthfeel features blackberry compote and rhubarb pie notes that carry through a strong finish lingering of oak spice.
Appellation

Côtes de Provence & Sonoma County
Alcohol

12.5% (Rosé) & 14.5% (Cab Sauv)
Reviews
James Suckling
"Aromas of raspberries, lemon rind and hot stones follow through to a medium to full body. Mineral undertones to this. Slightly tannic. A blend of 40% grenache, 40% cinsault, 15% syrah, 2.5% carignan and 2.5% mourvedre. Like the form here. Drink or hold."
2019 Olema Rosé, Côtes de Provence 
James Suckling
"Beautiful aromas of blackcurrants, ink and some black truffle. Medium-bodied, linear and tight with firm and silky tannins. Some spice and hazelnut in the aftertaste. Drink now or hold."
2018 Olema Cabernet Sauvignon, Sonoma County