Amici
Single Vineyard Series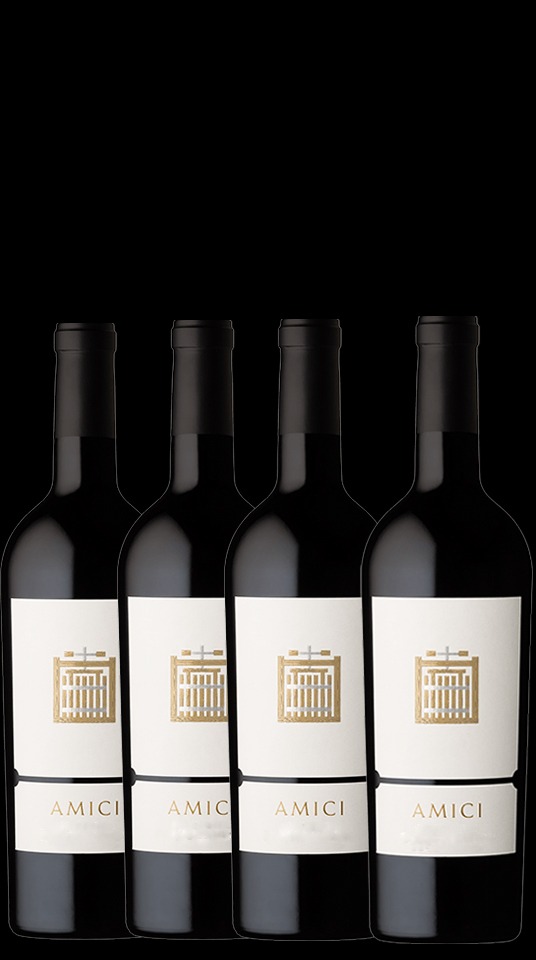 Limited Four-Vintage Vertical
in Wooden Box
Amici
Single Vineyard Series
Limited Four-Vintage Vertical
in Wooden Box
Winemaking Notes
This horizontal includes four of our highly rated, newly released Cabernet Sauvignons from the outstanding 2018 vintage in a beautiful Amici wooden box. 
2018 Hirondelle Vineyard Cabernet Sauvignon
Our second vintage from this beautiful Stag's Leap District vineyard site, the 2018 Hirondelle Cabernet Sauvignon shows the region's classic iron-rich aromas and balance on the palate. Hedonistic flavors of black cherry, bright blueberry, and dark chocolate lead into hints of bittersweet cherry and black currant. With polished tannins and hints of rosemary on the finish, the wine combines the herbal flavors of Bordeaux with California ripeness and is an incredible wine to pair with food.
2018 Missouri Hopper Vineyard Cabernet Sauvignon
Dense and concentrated, the 2018 Missouri Hopper is a powerhouse, character-filled wine. Aromas of black cherry juice accompany notes of black licorice. On the palate, the wine is balanced, with dark cocoa powder flavors, red currant, and black olive. Plush and rich tannins carry throughout the long, bright finish.
2018 Spring Mountain Vineyard Cabernet Sauvignon
The Amici Spring Mountain Cabernet Sauvignon is always a wine of freshness driven by tannins, and the 2018 is no different. Capturing the essence of mountain- grown fruit, the wine is powerful yet graceful, with perfumed aromas of ripe plum, bright bing cherry and vanilla. The savory, dense palate features flavors of tart blackberry, black olive and graphite. Strong, chalky mountain tannins that are already beginning to soften in addition to the round finish show the age-ability of this wine.
2018 Oakville Ranch Cabernet Sauvignon
The most terroir-driven Cabernet Sauvignon in the Amici single-vineyard lineup, the 2018 Oakville Ranch is mineral-driven with lovely bright bing cherry and expressive vanilla notes. Black cherry, rhubarb and leather through the palate evolve into warm blackberry pie filling and hints of iron ore. Distinctly age-worthy with a balance of freshness and power, the wine finishes long and earthy.
Shipping Included In Price
Appellation

Napa Valley
Reviews
Jeb Dunnuck
2018 Amici Missouri Hopper Vineyard Cabernet Sauvignon
The 2018 Cabernet Sauvignon Missouri Hopper Vineyard is another wine in this lineup that's a dead ringer for a top wine from the Pessac-Léognan region of Bordeaux. Revealing a dense purple/plum color as well as classic Cabernet notes of blackcurrants, smoked tobacco, chocolate, and gravelly earth, this beauty hits the palate with full-bodied richness, a deep, layered mid-palate, building tannins, and a great finish. It has enough fruit to be approachable today yet is going to benefit from 2-4 years of bottle age and keep for 20-25+ years.
Jeb Dunnuck
2018 Amici Spring Mountain Vineyard Cabernet Sauvignon
Another total winner in this lineup is the 2018 Cabernet Sauvignon Spring Mountain District. Its deep purple color is followed by a classic Spring Mountain bouquet of darker currant and berry fruits intermixed with lots of foresty conifer tree, tobacco, bay leaf, and mountain scrub brush-like nuances. More classic tobacco and espresso notes emerge with time in the glass, and this full-bodied beauty has a wonderfully textured, elegant mouthfeel, a stacked mid-palate, and a great finish. This gorgeous Spring Mountain Cabernet is going to drink well for 20-25 years.
Jeb Dunnuck
2018 Amici Hirondelle Vineyard Cabernet Sauvignon
The 2018 Cabernet Sauvignon Hirondelle Vineyard comes from the Stags Leap region of the valley and offers a more perfumed, complex style in its red and black currants, dried flowers, smoked tobacco, and lead pencil-like aromas and flavors. Hitting the palate with full-bodied richness, it's another flawlessly balanced, seamless wine from winemaker Tony Biagi that can be enjoyed any time over the coming 20 years or more.
Vinous Media
2018 Amici Oakville Ranch Cabernet Sauvignon
The 2018 Cabernet Sauvignon Oakville Ranch is fabulous. Rich and explosive, the 2018 possesses tremendous density and volume. Bright acids lend freshness to play off the inky dark red/purplish fruit. I would cellar the 2018 for at least a few years, as it needs time to come together, but there is so much to look forward to.